PART I:
Recollections of Helen Seymour (1950s)
A yellow and faded newspaper clipping, written by my Grandfather, Henry Hawley Catlin, sixty-two years ago for the Winsted paper, is of great importance to "us Seymours", for it is the account of our parents wedding.
They were married June 11, 1893 on a sizzling hot Sunday morning in the Methodist Church in Colebrook River.  Mother and Father were a fine looking couple on that far away Sunday.  They were about the same height (5 feet 6 inches) and up to the minute in the style of that day.
Mother was attired in a gown of drab color (a yellow-brown), lace trimmed, with a train,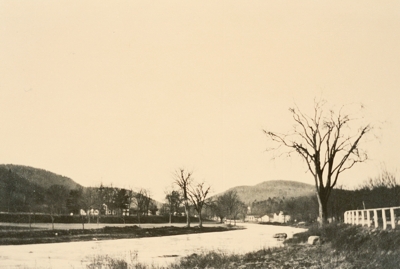 wearing lace mitts and carrying a bouquet of talisman roses.  Father was wearing a real wedding coat with black trousers to match and a white silk vest and black tie.  When he left for the church, he wore a topper (something like a derby) and white kid gloves.
After the ceremony and a change to their new travelling outfits at the home of the bride, they left for Winsted and their wedding trip to Boston on the steam cars.
Father used to add this when Mother told us about their wedding.  "Yes sir, we went in style to Winsted that day in a hired hack with a driver".  Then a reminiscent smile as he related the Rev. Adams' astonishment when he found a ten dollar gold piece in his hand when he shook hands with Father after the ceremony.
Mother and father lived in Winsted for two years and then purchased the farm in Colebrook River from Edward Ransom.  All the following events took place while we were growing up on the farm at the south end of the village of Colebrook River.
When Father was a young boy, he said to his brothers, "I hope, if I have children, they will all be girls".  Well, he missed by only one.  We numbered four girls and one boy.  Father seemed satisfied, but admitted late in life that he wouldn't have minded a half dozen boys like Charles, as he hadn't thundered around as most boys did.
Esther was their first born.  An extremely pretty child, with dark brown hair, which curled easily.  Small and quiet and very timid; loved by all who knew her during her short 11 years of life.
I, Helen, the question mark as to looks, came second.  Relatives spoke of my nice smile, or dimples, or good color, but never called me pretty.  Usually ended with "But she is smart and dependable".  Nature somehow didn't put my "good features" together right.  I had a big nose, freckles, straight hair and large bones.  It didn't bother me much, as life was too interesting to mope about looks.
Ella came next, a pink and white blonde.  "A perfect Seymour", said Grandmother.  She was a pretty child; small, chubby and cute.  Quiet, but very decided in ideas and one who spoke her mind if pushed too far; a very independent little miss.  I think she had to be, as Charles almost pushed her out of the cradle when he came along.
Charles was the next baby.  He was a good looking lad with very light brown hair, olive complexion, like mother's, and nice eyes.  He was quick and quiet, and had an even disposition, but it was hard to change him if he once made up his mind.
Doris was the baby of the family; a very pretty child too, blonde hair and beautiful blue eyes.  She was born about a year after Esther died and baby Doris helped us to feel the loss of our sister less, she loved fun and music and tried to dance almost as soon as she could walk.  Doris had a quick temper, but like a sudden summer shower, quickly over and sun out again.
Bill, our first horse
When Father and Mother first moved to the farm, they bought a horse and named him William, but called him Bill, of course.  He was so strong he could work all day and make a trip to Winsted eight miles away in the evening in forty-five minutes, when Father used the gig (a two-wheeled cart).  Bill had a strong mind, too and few could manage him except Father.  Bill was a pretty chestnut color; a sturdy built horse, but very quick in movement.  Mother said he had shifty eyes and wasn't to be trusted.  His disposition was rather mean, but he became somewhat friendlier in old age.  He had one habit, which was unique; Bill would swing his tail in a complete circle as he traveled along.  We never knew why.  Father said some horses would do it so as to catch the reins and then run.  Bill never tried that; just the continual swinging of his tail.  Some neighbors called him "old switchtail", much to our dislike.
A few times Mother took us for a ride in the surrey (yes, it had a fringe on top), but had to give it up because Bill knew Mother was afraid of him.  We went as far as the store one day, did the shopping, and were going to cross the iron bridge at the center of town and visit our cousins, the Baxters.  Bill refused to go where Mother reined him; backed neatly around and started for home.  At the Spencer Bridge, a mile south, Mother decided to try crossing, and Bill calmly took us over and up the west side of the river to the Baxter home.  They were in the yard and came to meet us.  We told them what Bill had done at the store, and then he did it again, almost backing us over a steep bank.  Bill took us home at a fast clip.  So for a time Mother gave up trying to drive him.
What a time Father had with him the next day.  Bill tried the same trick with him.  Father jumped out and used the whip on his front legs and this ended his backing trick when hitched to the light wagons.  This he learned quickly, but it took two bad tumbles down a steep bank with a loaded farm wagon before he learned to go ahead to the top of the hill to the upper barn.  Father thought he would be killed by the fall as he rolled over and over to the bottom of the hill, but Bill came through o.k., with only a limp to show for his trouble.  The wagon was wrecked, of course.  Father wasn't hurt, as he jumped off when he saw Bill wouldn't stop.
After this, Bill settled down to farm work.  Mr. Prevo was the only one outside the family who could make him work.  Mother, Charles and I did drive him some after he became less lively and stubborn.
After twenty years of service, Father pulled off Bill's shoes and turned him out to pasture.  He was old and seemed to enjoy the rest.  To see how docile and gentle he was, you'd never believe he had been so "ornery" in his young days.